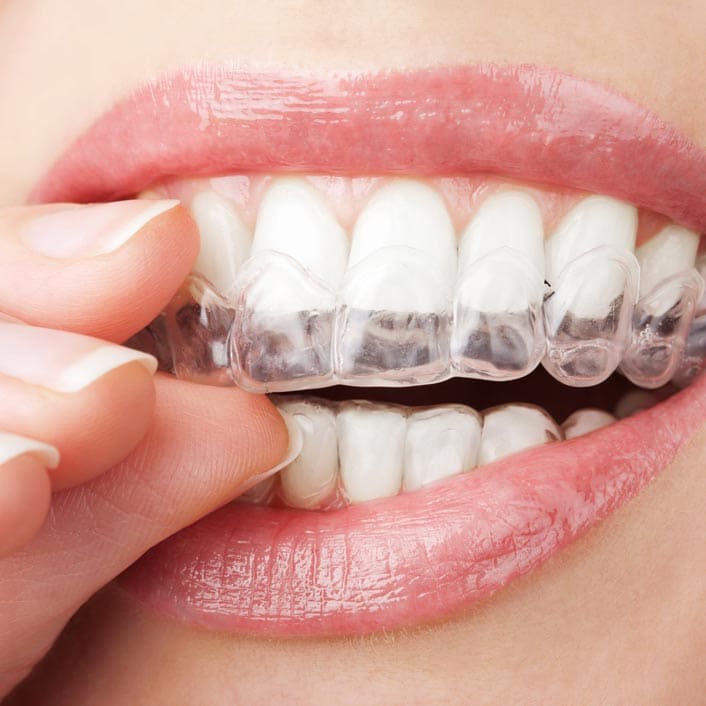 Clear Aligners
Invisalign®
Invisalign is an attractive alternative to traditional metal braces. It is a series of clear, custom-fit removable mouth trays that apply a controlled amount of force to the teeth to slowly straighten them. The system provides the same beautiful results as traditional braces but is are virtually invisible. Because Invisalign trays are removable, they can be taken out while eating, drinking, brushing and flossing.
The Invisalign system begins in the dentist or orthodontist's office with taking molds to design customized trays. Patients switch trays every two weeks to gradually shift the teeth. The system requires a visit to the office every six weeks so that treatment can be monitored. Once treatment is complete, a patient will likely be given a retainer to maintain the straight smile.
The cost of Invisalign varies according to the complexity of the case. Insurance policies generally cover Invisalign to the same extent that they cover traditional braces.
Six Month Smiles
Six Month Smiles is a system similar to traditional braces that corrects crowded, rotated or misaligned teeth in 4-9 months.
The system includes brackets, arch wires and elastic ties but with clear or white ties and tooth colored wires. The brackets and ties are practically invisible at a normal speaking distance and are highly effective in correcting esthetic issues. This system is not useful for correcting bite issues or skeletal problems but does a fantastic job aligning teeth for maximum comfort and ease of flossing and brushing. Friends and family will barely notice you're wearing braces!
Ask us about Six Month Smiles to see if it is the best option for you. Cost and treatment time vary from case to case. We are happy to answer any questions regarding insurance coverage, pricing and treatment details.